All Yoga & QiGong Services are provided through the unique skills offered by each Instructor. Please see individual biographies for more details.
After practicing Yoga on and off for decades, Britta decided to pursue a Yoga Teacher Training and became a Certified Yoga Teacher in April, 2022. She is just in the process of exploring what this will look like moving forward working with clients. At this time she is developing her own practice to be extended to others in private settings when she is ready.
My classes are open to anyone with an interest in yoga. They offer exploration through gentle asana practice (physical postures), pranayama (breathing techniques), self-inquiry, and meditation. Through alignment of the bones and awareness of the bodymind, space is created within us so that prana (life force energy) can move through us, releasing physical tension and samskaras (imprinting from past experiences). As we move through blockages and re-energize our systems, we find greater freedom and expression of our authentic true selves. 
Ursula Adams is passionate about empowering people to live a life of wellness, authenticity and happiness. She believes that health includes all facets of our being: mental, emotional, physical and spiritual, and that we can tap into our innate healing ability by embracing our senses, intuition and deep connection to nature. For the past three years she has been studying and teaching Qigong, an energy movement practice based on the same principles as traditional Chinese Medicine, and has graduated as a Certified Qigong Flow Associate Instructor in November of 2022. In all her practices, she is guided by her heart and meets everyone with compassion, acceptance and kindness. She loves inspiring people and seeing them blossom into their highest and most joyful Selves, so that they can make empowered choices for their lives and create positive change in the world.
Qigong is an ancient practice that uses gentle flowing movement, meditation, sound, visualization, breathwork, low-impact conditioning, stretching and self-massage to cultivate and circulate life force energy through the energy channels in the body for health, vitality, relaxation, clarity of mind, emotional well-being, and deep connection to our internal power. Qigong literally means "to develop the skill to work with our Life Force Energy". Through conscious meditative movement, stillness, and sustained body-based awareness we can tap into our connection with nature, strengthen and refine our Qi and restore harmony and balance within ourselves to raise our frequency to live a life of health, joy, and longevity.
Group Classes
QiGong with Ursula Adams Wednesdays at 7 pm March 29 April 19, 2023 (For more information see poster below.)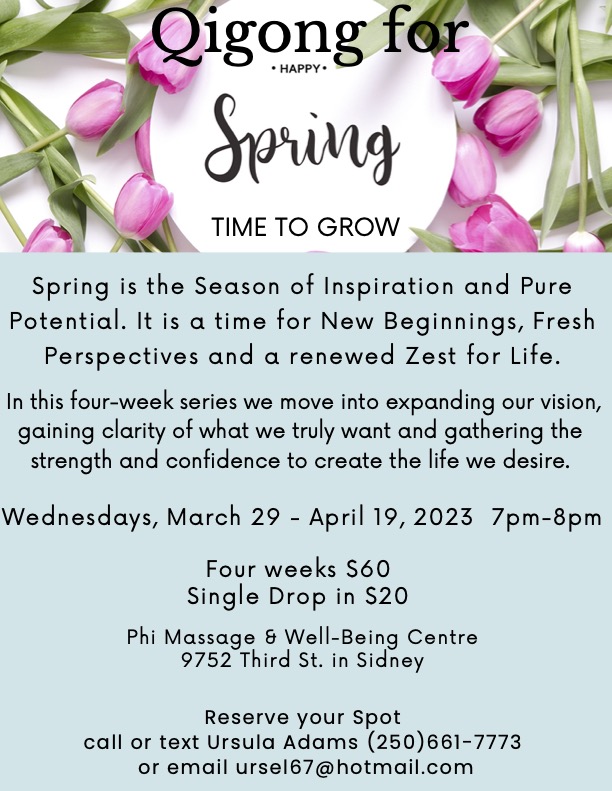 We book appointments from
Monday to Friday, approximately
8:00 am to 5:00 pm
9752 Third St
Sidney, BC
V8L 3A4