All Massage Therapy Services are provided through the unique services offered by each practitioner. Please see individual biographies for more details. Danielle Webb is the only therapist accepting new clients for Massage Therapy at this time. She is aiming to become a Registered Massage Therapist by November, 2022.
(Not accepting Massage Therapy clients at this time)
The owner of Phi Massage & Well-being Centre, Britta has been in practice since 1998. She decided to pursue a career in the health care field after her mothers' experience with cancer. This has given Britta a very compassionate and balanced approach to utilizing massage therapy as a modality to work towards optimal health.
Britta believes passionately in the art of massage to reconnect with ourselves and draw out the essence of who we are and what we are each capable of. Massage is a modality that draws from many rich resources – everything from Western allopathic to Eastern alternative and from anatomically based to energy-work. Britta is continually exploring different training to work with the human body using all of these different approaches.
She has completed training with:
• Dr. Vodder's Manual Lymph Drainage
• John Barnes Myofascial Release I, II and Unwinding
• Geoff Gluckman's Muscle Balance and Function
• Myofascial Release with Natale Rao and Randy Persad
• Upledger Institute Craniosacral Level One
• Visceral Manipulation with Heather Inglis & Natale Rao
• Somatic Explorations Visceral Pro-section
• Somatic Explorations Intensive Dissection (Anterior Thorax, Back and Visceral)
• Lomi Lomi Massage
• Anatomy and Yogasana I & II
Britta's massage therapy style draws heavily from Myofascial Release, Craniosacral Therapy and Lomi Lomi Massage.
Britta has also studied principles of Neuromuscular Technique, Muscle Energy Technique, Personal Training and Fitness, Acupressure, Shiatsu, Traditional Chinese Medicine, Yoga, Meditation, Reiki, Reflexology and Visualization Techniques. She is always collecting tools to draw from for her own health as well as her practice.
As a Practitioner, Britta has her own unique style that can be gentle, yet effective. She draws from the variety of modalities she has studied to create unique experiences for every person that comes in to see her, every time they come in. It is a dance that is created between her hands and your body with clinical expertise and human compassion.
Britta has an extensive, dedicated clientele that she has worked with over her 24 years of practicing. She enjoys working with all kinds of people with all kinds of concerns – from acute/specific to chronic/diffuse. She has extensive experience in working with systemic conditions. Britta welcomes individuals that have tried everything else and would like to explore a new approach.
Britta had been inspired to share her passion for massage therapy with the students of the West Coast College of Massage Therapy-Victoria Campus until 2008 and taught Myofascial Release-a modality she draws heavily from in her own practice.
(Not accepting clients at this time)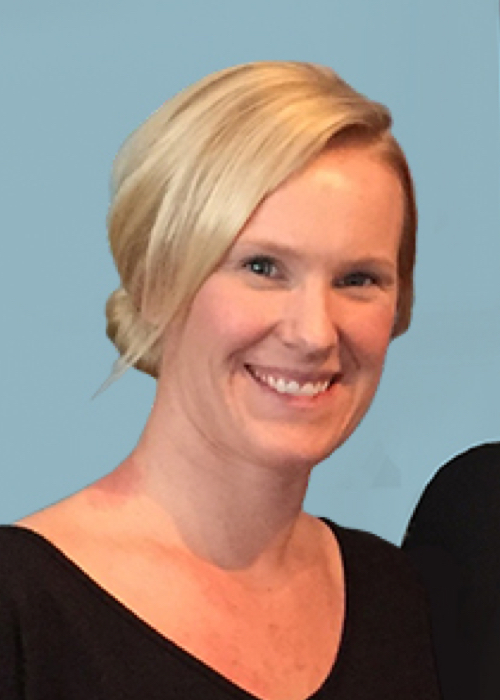 Carli Griffin graduated from the West Coast College of Massage Therapy in 2007.  Although she practices many techniques of Massage Therapy, her natural style is Swedish massage with a focused look at sports massage and rehabilitative therapy.  Carli enjoys being an integral part of her clients goals for living a healthy and balanced life.  
Carli was born and raised in Victoria. She spent a few years in Vancouver where she studied Criminology. During her time in Vancouver, she felt a strong desire to work in healthcare. After moving back to Victoria, she attended the Registered Massage Therapy program at WCCMT. After completing the program, she worked as an RMT in Sidney for nearly 8 years. She took a brief break in 2010 from work to become a mother to her daughter.  Carli tends to spend her spare time running and can often be found training for various road races around the island and mainland.  She is very committed to health and the well-being of herself and those around her.
Danielle Webb recently graduated from the Massage Therapy Program at the West Coast college of Massage Therapy. Her passion for health and wellness began at an early age and has evolved in a holistic way. Her studies began in 2015 with Holistic Nutrition at Pacific Rim College. This grew into a natural passion for herbalism and growing food, which led her to study Permaculture Design & Earth Activist training in 2016 and later to pursue a diploma of Permaculture Design & Resilient Ecosystems at Pacific Rim College in 2019. During that program an innate connection and desire to support women's health rose in her, which led to a completion of her Holistic Doula training at Pacific Rim College in 2020. With her nurturing and compassionate nature combined with a lifelong vison of offering a space to hold somatic healing, safety and rest for her community, Massage Therapy seemed like the natural route to go. Danielle believes in a hands-on approach to healing with the intention of guiding people back into their bodies, as a place to feel whole and at home. Her treatment style is intuitive and receptive to the ever-changing needs of the body and draws on Myofascial Release, Lomi Lomi and General Swedish massage techniques. Her passions outside of work involve dancing, surfing, biking, ocean swims, herbalism and nutrition.
Registered Massage Therapy Services
For initial visits, we recommend a 90 minute session.
For follow up visits, we offer massages of the following lengths:
30 minutes
45 minutes
60 minutes
75 minutes
90 minutes
120 minutes
Gift Certificates are available.
Please provide advanced notice to accommodate any specific needs.
All appointment changes and cancellations require 24 hours notice unless related to COVID-19 symptoms.
Book an appointment with our
Therapist at Phi Massage
& Well-being Centre.
TESTIMONIAL BRITTA
"My husband and I have been clients of Britta for over five years. We have enjoyed many relaxing massages during that time. Britta's gentle disposition makes it easy to relax and enjoy the wonderful bodywork she does. Her office provides a peaceful environment for her practice. Last year I experienced very serious back problems, and Britta used different techniques that were more therapeutic in nature. These massages were one of the only things that provided relief to my back and helped me to heal. Britta's knowledge of her profession is evident in her work. We highly recommend her."
//
Margaret and Robert Craig
TESTIMONIAL BRITTA
"I have been seeing Britta at Phi for massage therapy regularly for over a year and have found her to be knowledgable, caring, and professional, as well as therapeutically effective. I have no hesitation in referring my patients to her for treatment."
//
Amanda Naismith, Family Practitioner, Sidney
TESTIMONIAL BRITTA
"Britta is amazing. Put yourself into the hands of a truly skilled and intuitive bodywork practitioner. At Phi, Britta has created a calm, relaxing environment that encourages and promotes wellbeing and ease. I highly recommend her."
//
Andrew Plank, Realtor
TESTIMONIAL CARLI
"I have used massage therapy with Carli for 3 years now for many different ailments, from being pregnant with twins to relief from my scoliosis and now for hip pain and tight hip flexors. I appreciate how knowledgable Carli is with all different areas and I always get the relief I need from her treatments. Carli always goes above and beyond when treating me, whether it's speaking with other health care professionals regarding what else I could be doing to lessen my pain or following up with me after treatment. Carli is very personable and has a caring bedside manner. You feel at ease and comfortable within her presence. I think so highly of Carli that I refer her to all my friends and family. I strongly recommend Carli's expertise to anyone who is suffering any kind of muscle pain or even for the relief of the stresses of everyday life."
//
Keri Ward
We book appointments from
Monday to Friday, approximately
8:00 am to 5:00 pm
9752 Third St
Sidney, BC
V8L 3A4